One of my all-time favorite painting techniques with children is marble painting. I guarantee you are going to be surprised. I literally mean MARBLE painting. :) Again this is not messy, easy to prep and a smooth clean up. This is suitable for all ages and even older children enjoy this relaxing painting method. In addition this is a great exercise for the child's eye-hand coordination and can boost the child's patience, since it takes some skill to get the marble into the paint and then across the paper.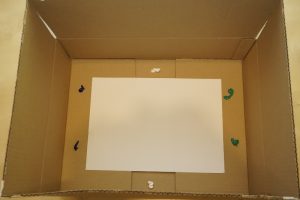 Step 1:
Find a box with high sides, that the marbles inside can't accidentally jump out and cause a massive paint mess.
Step 2:
Put some tape rolls on the back of your piece of paper and then stick it in the middle of your box, so your paper doesn't slide around in the box. Add a few drops of paint around your paper. I'd recommend no more than 2-3 different colors of paint.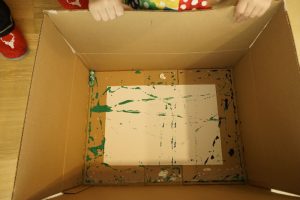 Step 3:
Drop either one or more marbles into the box. Now pick the box up and move it all around – forwards and sideways, make sure you move the marbles into the paint and across your paper. The marbles will roll over the paper and make wonderful patterns in all directions.
If your child is quite young and getting frustrated, because the marble isn't moving fast enough, I discovered you can also just place the box on the floor and then move it back and forwards causing the marble to bounce off the sides faster. The pattern is more of a zigzag but still very nice.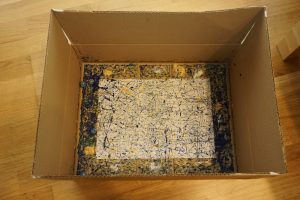 Step 4:
Do this whole process over and over adding new paper and paint in the box. You can use other colors than the first time, it might just mix a bit with the former paint, but the patterns and outcome will still be pretty and colorful.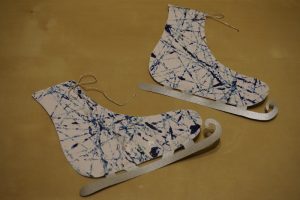 Step 5:
You now have created in very short time a whole bunch of beautifully decorated sheets of paper. You can use them for any craft you like. For example as a card, cut out a shape or in my case I made them into ice skates to hang on our windows as decorations. If you would like to make ice skates too, here is a template you are welcome to print out and use.

Happy crafting!