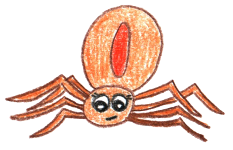 Lately I have been very busy with marketing my first book "Who stole the berries?" of the series "The Adventures of Bucklethorn Forest". I didn't get a chance to complete my character introductions. One very important character is still missing. I would like to make up for that now.
Introducing the heart of Bucklethorn Forest… Mrs. Weaver:
Mrs.Weaver is a spider.
She is not the kind of spider you may be used to… scary, spooky and quite frankly nasty.
Mrs. Weaver is kind, generous and caring.
She is loving, but also very much lovable.
Mrs. Weaver being a spider lives in her web and takes great pride in her master piece.
Her favorite food is, no surprise, flies which she catches in her web.
Mrs. Weaver is older and wiser than Puck and Fiona, but still shares a very special friendship with them.