This painting technique is very easy and makes for a lovely pattern or a base for a variety of crafts. My daughter is two and a half and had great fun dipping the cork into the paint and printing it all over the paper plate. A big plus with this technique is that it is not very messy and needs hardly any preparation or materials.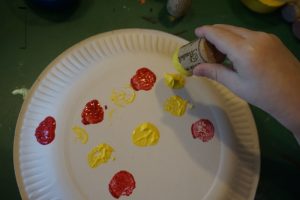 Step 1:
There is very little to prepare for this craft. Just get your paint out and either dip your cork directly into the paint or of course you could also use a paintbrush to apply the paint onto the cork.
I found it helpful to have a cork assigned to each color my daughter was using. You could also just wipe the cork on a kitchen roll or something to clean it a bit, before using it for a different color.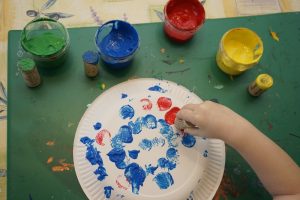 Step 2:
After putting the paint onto the cork print it on a paper or in my cause we printed it on paper plates. Feel free to let your imagination go wild. Make a pattern or just print the cork all over the surface.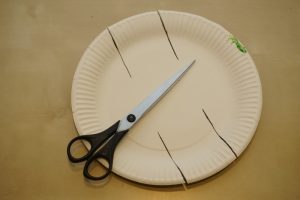 Step 3: (optional)
Since Easter is drawing near I chose to make some Easter baskets to hand out as presents. This is why we printed the corks onto paper plates and not paper. Once the paint is dry, cut into the paper plates four times and stick the sides together – I found the glue gun very helpful. Now you can add a handle and some decorations and your Easter basket is complete.