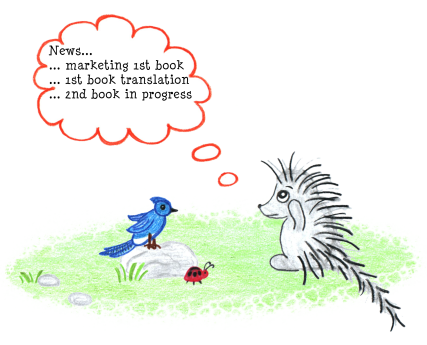 My dear friends and readers,
Maybe you are thinking, now that the book "Who stole the berries?" is done and for sale, that I have a lot of free time. Well, things are quite the opposite at the moment. Here a little update on what's going on with the Bucklethorn Forest book series.
I am currently working three different projects, all connected to the book series "The Adventures of Bucklethorn Forest".
My first project is still my first book "Who stole the berries?". I am busy with marketing strategies. I have made flyers, that I am hanging up in kindergartens, schools and libraries. Middle of February I will be holding my first open book reading. I am researching other marketing ideas and ways of getting my book established.
My second project is translating the book "Who stole the berries?". I've had many requests for it to be translated into German. For the German version of the book, I am currently looking for a publisher. This is very time consuming.
My third project is the most fun for me. I am very excited to announce the second book is already in progress. The story is written and the illustrations are slowly coming together. I am hoping to publish it in 2016.
If you have some time on your hands, then check out the new coloring sheets you can download for free.
Stay tuned for more news and adventures of Bucklethorn Forest.